Description
Max IRON high flow filters is made of polypropylene or Microglass fiber with polyester support and plated steel outer cage. The 6 inch large diameter ensures large flow rate, big effective surface filtration area and high dirt holding capacity in one filter element.
Max IRON high flow liquid filters' advanced design helps reduce the overall cost of filtration and the frequency of change-outs to lower labor time and production downtime.
Features of Ultra H High Flow Filter Cartridge
Fewer element in need
Lower maintenance costs
Quick installation and change-out
Smaller housing place
Metal cage against high pressure and temperature
High performance depth media for dirt holding
18 times flow rate than standard 2.5'' filter
30% total cost down
High filtration efficiency
Applications of Ultra H High Flow Filter Cartridge
Natural gas
Oil production
Chemical industrial
High-dirt oil process application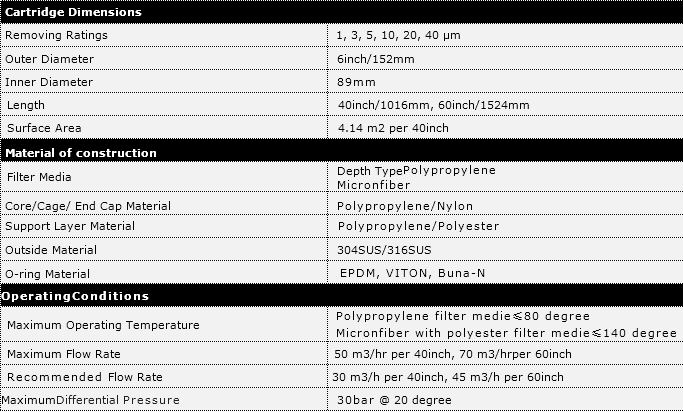 BHFI
-PP
-20
-N
-0100
-E
-H
Model
Media Material
Length
Filtration Efficency
Micron Rating
O-ring
Surface Treatment
Max-Iron High Flow Filter Cartridge
PP=Polypropylene
GF=Glass Fiber
20=20inch
40=40inch
60=60inch
N=Nominal        A=Absolute(1-20um)
0100=1um
0500=5um
1000=10um
1500=15um
2000=20um
4000=40um
7000=70um
10000=100um
E=EPDM
S=Silicon
V=Viton
B=Buna-N
H=Hard Cage
S=SUS 304
U=SUS 316
Product Source: https://www.brotherfiltration.com/max-iron-high-flow-filter-cartridge/
Payment and Security
Your payment information is processed securely. We do not store credit card details nor have access to your credit card information.