Description

ITF approved
tennis products

Surface design for
personal preference

Color combination for
court aesthetic
Playing Tennis on Synthetic Turf
There are several types of tennis courts. We know that players have their own favorites. At CCGrass, we offer tennis courts for high-quality club use, intense school play and leisurely family time.
According to the International Tennis Federation's Court Pace Rating, artificial tennis courts are divided into five categories: slow, medium slow, medium, medium fast and fast.
Each CCGrass tennis court is designed in kit form and comes ready to install. Through careful court planning, we keep joints to a minimum and work with recognized installation companies, based locally, in many tennis markets.
CCGrass provides ITF certified tennis turf for the fast tennis court. Our tennis turf is attractive and comfortable. It will enhance your community or commercial area.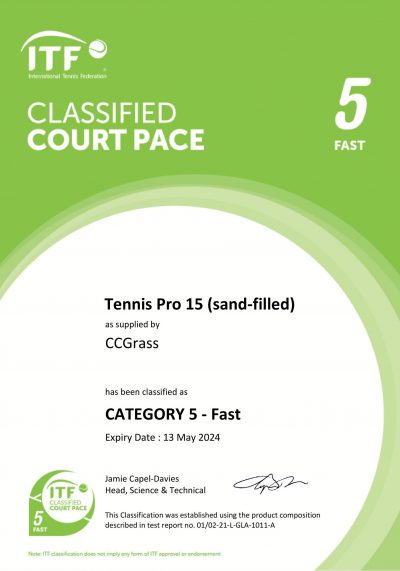 Choose Your Court Speed and More
In addition to the personal favorites of players, tennis courts in different countries also have their own preferences. This is why CCGrass, as the world's leading artificial turf producer, can design the surface for your individual requirements – short and dense for a medium to slow game, more open and a little longer for a faster serve down to a clay based system for longer rallies and slower play.
Each court is made of our own fibres and available in a choice of colour combinations, ensuring outstanding court aesthetics.
Padel has similar surface requirements to tennis. CCGrass also offers artificial turf for this sport, whose popularity is spreading rapidly in Europe
Payment and Security
Your payment information is processed securely. We do not store credit card details nor have access to your credit card information.